My textures in the toolbar are not displayed correctly
If the textures in your toolbar are not displayed correctly, please use our reset tool:

If you are still having issues, please try re-running the reset manually:

Open the Google Chrome Console by pressing F12 key.
Select "Application" in the console's top menu.
Select "Local Storage" in the console's left menu.
Right click www.dungeonfog.com and click clear to delete the local storage.

A new local storage will be created once you reload the editor.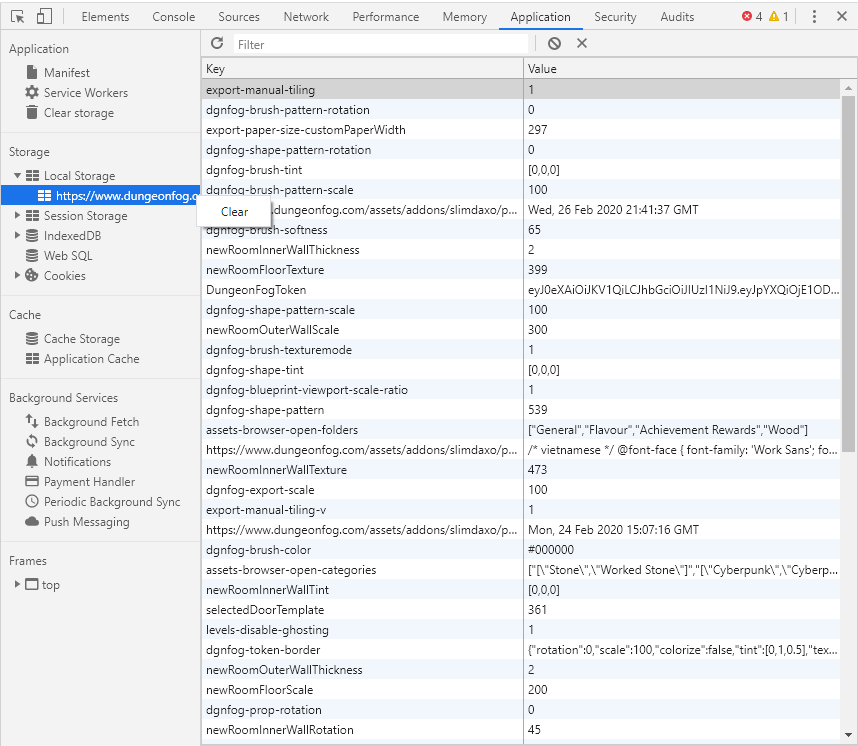 Related Articles

Text Tool

Text Tool With the text tool you can now add text to your map how you see fit. Since text acts like a prop, you have all the same options available as well as the features unique to text itself. Color - This is where you select the color of the text ...

Path Tool

The path tool is designed to allow you to create paths with or without ending, while bending them to your will. Tutorial Video ​ Creating a new Path Upon entering the path tool there will be a wide variety of options available that will let you ...

How to: GM Notes

Using your Gm-Notes (main menu), you'll be able to do write out full descriptions and information for your map, which will be tied to the map in the application. To make use of the dynamic room descriptions, select a room image from the list and drag ...

Map Decorations

Map Decorations With this feature, you can set props, brushes, shapes, and text as a 'map decoration'. This will place it above all objects including 'above wall' objects and tokens allowing you to detail and decorate your whatever needs you have. ...

How to: Color Grade Your Map

Color Grading is one of our premium only features that allows you to adjust the color of your entire map on a level by level basis. Color Grading Panel Below is an image of the color grading panel, which can be found at the bottom of the screen while ...