Color Grading is one of our premium only features that allows you to adjust the color of your entire map on a level by level basis.




Color Grading Panel

Below is an image of the color grading panel, which can be found at the bottom of the screen while inspecting the stage.

Color Grading - Toggle the color grading on and off.

Blending - This slider allows you to decide how much of the color grad to apply to the map.

Contrast - Adjusts the contrast of the map.

Brightness - Adjusts the brightness of the map.

Reset Color Settings - This button will reset blending, contrast, and brightness to their default values of 100%.

*Please note that Contrast and Brightness sliders affect your map even if color grading is disabled.

Color Grading Filter Selection

When you click on the name of a filter under 'enabled' a new window will open as displayed, yours will look different and probably won't have a favorites section.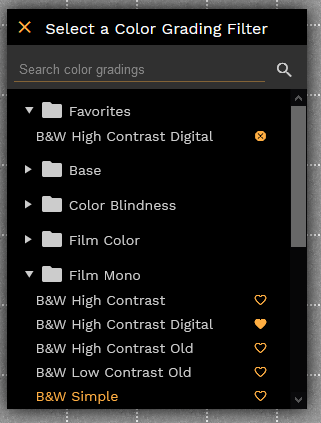 Search Field - Search for the name of a filter

Favorites - To add a favorite, click on the heart symbol; you will see this has filled in the heart and added the favorite to the top. You can remove a favorite by clicking the x button in the favorites section. Please note that the Favorites section is not shown when you don't have any favorites.

Active Filter - While this will also update in the stage panel, the selected filter will show up as highlighted, as shown in the image above for 'B&W Simple'.

---
Last Reviewed - v5.6.1